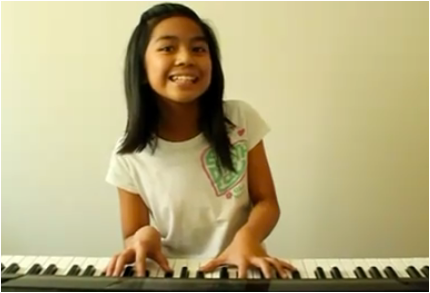 Another pride of every Filipinos, Maria Aragon.
Finally, the most awaited duet of a 10-year old Filipina-Canadian girl, Maria Aragon with the famous Lady Gaga received an amazing response from the audience in her concert in Toronto, March 3.
video by katherineandblair
Maria Aragon or Maria Lourdes Aragon (born July 17, 2000) is a Canadian singer from Winnipeg, Manitoba.
Maria Aragon was a Filipina girl living in Winnipeg, Canada. Her mother is a native Filipina from Ormoc, Leyte, Philippines. She became sensational after the famous Lady Gaga posted a link on her twitter account about her rendition of the song Born this way by Lady Gaga.
In February 16 2011, she posted a video on her sister's YouTube channel in which she performed a cover of "Born This Way" by Lady Gaga. A tweet from Lady Gaga on the video was sent to her eight million followers, and launched Maria to instant, international fame. The video garnered over 10 million views on YouTube in just five days. In just 6 days, her video, "Born This Way - (Cover)" on Youtube had reached up to 17 million views.
video by generacionx100
American talk show host Ellen DeGeneres took notice of her from Lady Gaga's tweet and invited Maria to appear on her show on February 21, 2011. She performed "Born This Way" on the piano while singing on the show. Her parents were part of the audience and as seen in the video that recorded the show. Before the show on an interview with Virgin Radio 99.9 Toronto, Aragon spoke with Gaga, and was invited to perform "Born This Way" with her at The Monster Ball Tour concert in Toronto in March. Aragon confirmed she was invited to sing with her on Ellen.
video by michaeljohnlee
video by filipinojournal
Aragon is a fifth-grade student at the Isaac Brock School in Winnipeg. She lives with her brother, two sisters and her parents. (Wikipedia)